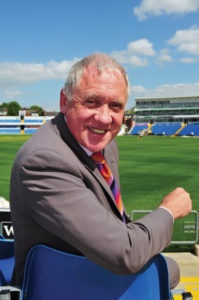 Harry Gration presents BBC Look North for the Yorkshire region. He started on the programme in 1984 and remained there for a decade, after which he undertook a number of other jobs before returning to the programme in 1999.
With a broadcasting career spanning three decades and a well-renowned passion for sport, he has covered virtually every sport, including the Soccer World Cup, Wimbledon and Open Golf . In the mid 1980's he also presented Grandstand, Sportsnight and even a Grand Prix special as well as the occasional Match of the Day. He has been to a total of seven Olympic games – five summer and two winter. He currently presents the Super League Show which is broadcast to all of the North England regions.
Harry's career has been diverse; starting out as a history teacher in Yorkshire, he used school holidays to do match reports for BBC Radio Leeds and BBC Radio Humberside. His natural talent was soon spotted and he took a gamble, giving up the teaching for a three-month contract as sports editor of Radio Leeds.
Harry has received a number of awards, including an award for his contribution to sports journalism over 30 years from the Sporting words festival. He has also received two Royal Television Society Awards for his sports documentaries: White Rose in Africa (1992), which followed the Yorkshire County Cricket Club in their overseas coaching of South Africa, and Dickie Bird – A Rare Species (1997), a tribute to the popular cricketer and umpire. In 2002, he won the BT News Presenter of the Year, North of England
coaching of South Africa, and Dickie Bird – A Rare Species (1997), a tribute to the popular cricketer and umpire. In 2002, he won the BT News Presenter of the Year, North of England